Mystery Pipit from Hong Kong
I have been trying to identify one of the pipits that I photgraphed in Hong Kong on a recent trip, on Oct 19, 2002. The location is These are taken in "Long Valley" in Hong Kong. This is a garden area. I have 2 different identifications of the bird.
Below are two photographs taken of the "Mystery Pipit". The photos are taken through a 20x scope with a Nikon 4500 camera.
Taken 2002 Oct 19 1:52 PM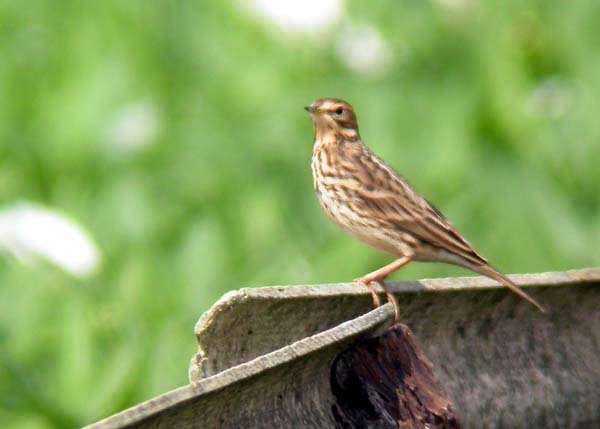 Taken 2002 Oct 19 1:52 PM
---
The identifications received from the Fontiers of Field Identification are:
Anthony Hertzel
Pipits are not my speciality. The complete lack of any apparent buffy ground color to the breast and underparts seems to effectively rule out all but Red-throated and Meadow Pipit. Since the chin has a definite tinge of buff and the bird has a fairly strong supercillium, I'm going with Red-throated.
Yan Karin - Hong Kong bird guide
It is a Richard's Pipit.
Anthony Hertzel - response to Yan Karin
Fine with me; I'm sure she's right and likely knows more about eastern pipits than I. As I said before, pipits are not my strong suit. Still, her answer is of little real help. The buffy, almost reddish chin is troubling, as is the whitish streaking on the back and the lack of any buff on the throat or breast.
Martin Garner
It looks like a Red-throated Pipit (Anthus cervinus) to me
Igor Festari - Tortona (AL), Italy
In my opinion it can be a Red-throated Pipit (Anthus cervinus) with poor-marked throat color (possibly female?). Pechora Pipit (A. gustavi) can be excluded because the mystery-bird in your photo has too short primary-projection, too slender bill and buff wingbars (all wrong features for Pechora, but good for Red-throated), etc., etc.I've not informations about A. (gustavi) menzbieri, a somewhat distinctive form of Pechora Pipit (typical of central part of Asia, south of nominate form), sometimes splitted and called Menzbier's Pipit.
Steve Lister - UK
The prominent pale mantle stripes and rufous tone to the unstreaked throat area both suggest Red-throated Pipit. This species has a very distinctive 'peace' call. What do you think?
Colin Bradshaw
I agree with martin. Despite the lack of very obvious wing bars it looks like RTP to me as well
Harry Hussey,Cork,Ireland
While I wouldn't have been sure enough of pipit ID to call it as a Red-throated from the photos (have "seen" sp.in Bulgaria; flyovers ID'd on call!), but it's DEFINITELY not a Richard's, which would only have a gorget of streaking across the upper breast,would be much more upright and have pale lores. Have only seen 1 Richard's (a vagrant over here Sep.01), but they are only likely to be mistaken for Blyth's Pipit or maybe juv.Tawny Pipit. R-t Pipit has a thin drawn-out "pseeeh" call, VERY distinctive.
Steve Leonard - Malden, MA
Having done a little browsing for photos of Richard's Pipit with some success, I suspect that the bird in the photos from Hong Kong is indeed that species.
---
david@cahlander.com
Last update 2002 Nov 6